Withdrawal Rate
The annual withdrawal rate that they have to fund is:

Options:
Life Income Annuity
With this option you will receive a guaranteed income for life (can be a joint life with your spouse). Annuities eliminate the risks of out living your savings, and remove market risks, which are transferred to the life insurance company. Once you purchase an annuity, no more decisions are made. The trade-off for the lifetime guaranteed income is that you no longer have access to your capital.
If the Cleavers were to purchase a Joint Life Annuity (with a cash refund) for $500,000, with a 100 % payment to the survivor, indexed at 2.5 % per year, the starting monthly income would be $1,837 ($ 22,044/year) This annuity would be indexed at 2.5 % per year, and the value to their estate would be the $500,000, less the payments they have received over time. (Source of annuity quote, Manulife, April 21, 2017, based on a joint life, Male with a date of birth Jan 1, 1937, and Female with a date of birth Jan 1, 1937)
Guaranteed Income Products
These options are often called Guaranteed Minimum Withdrawal Benefit (GMWB) products and are offered by Life Insurance Companies through their segregated funds, which are pooled investments like mutual funds. These products provide a lifetime guarantee of income regardless of how the underlying investments perform within the segregated fund contract.
If Ward and June were to use the Life Advantage Series with Sun Life, the current joint lifetime payment is 4.8 %. (As of April 21, 2017, based on a joint life, Male with a date of birth Jan 1, 1937, and Female with a date of birth Jan 1, 1937)
So, if they were to invest $ 500,000, the annual income would be $24,000 per year, or $2,000 per month (not indexed – this is why the initial payout is greater than the indexed annuity initial payment). With this option, you would invest the $500,000 into their segregated funds, and have access to your capital if required, although you would lose some of the guaranteed income when you redeem funds.
Interest Only Investments
Using this option, you would only invest in income- oriented investments such as GICs and live off of the interest income it provides.
For a 5-year GIC, you might average around 1.8 % per year, so the annual income from a $500,000 investment would be $9,000/ year or $ 750 per month. Since this is less than the income required, you would have to draw down on your capital over time.
Systematic Withdrawal Plan
With this option, you would invest in a globally diversified portfolio using mutual funds, and on a monthly basis (or as required) you withdraw the income you require. The withdrawal amount can be changed to adjust for annual increases in your retirement home
The Cleavers need to be able to pay an additional $ 16,248 dollars a year to fund their retirement home from their capital from the sale of their home.
This option would include using a Systematic Withdrawal Plan with a Bucket approach of an "Income Bucket" and Longer-Term Bucket."
The strategy would be to invest 2 years of income ($ 32,496) into a short-term investment, the "Income Bucket", and the balance $467,504 into a longer-term investment portfolio, the "Long Term Bucket."
To create the income the Cleavers would set up a monthly payment from their Income Bucket of $1,354, and have the distributions earned from the Long-Term Bucket invested into the Income Bucket." If not, enough distributions have occurred during the year, if the investment growth has been positive for the year, you sell off some of the Long-Term Bucket, and fill up the Income Bucket.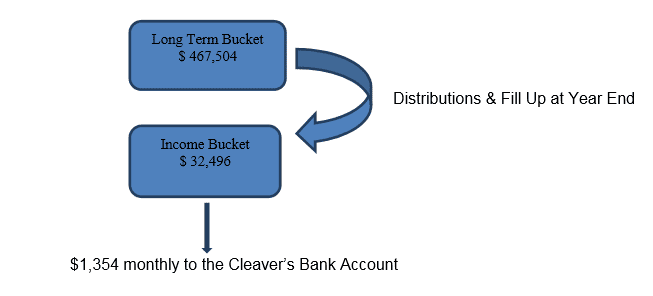 Combination Approach
What many people may like to do is use an annuity or GMWB to create guaranteed income and use a Systematic Withdrawal Plan (SWP) to allow for inflation and extra expenses such as travel.
This example would use the Guaranteed Income Product with Sun Life, and a Systematic Withdrawal Plan (SWP).
Since Ward and June require about $1,354 per month or $ 16,248 per year, they could: A) Invest $ 338,500 into the Sun Life Advantage Series, and obtain an income of $ 1,354 per month, (4.8 % of 338,500 is $ 16,248/year of income) B) Invest the balance of $ 161,500 into a Globally Diversified Balanced Mutual Fund Portfolio. This can be used to provide for inflation and extra expenses in the future using a SWP when required.
Tax Considerations
A key concern with any solution is to pay as little taxes as possible, and each solution has unique tax characteristics that we would have to review. While we can't review all the tax considerations in this article, some key tax considerations would be:
• We would be sure to make use of the Cleavers Tax Free Savings Account, as each of them can have invested up to $52,000 each for 2017
• Corporate class mutual funds would also be reviewed, as they are very tax effective to defer taxation, and to set up a tax effective income stream.
• Different Annuity Types have different tax characteristics which would have to be reviewed.
Stress Test the Solutions
Each of the preferred options would be run through our retirement income planning program to help define the best option for Ward and June to achieve their goals. Each year we would update their plan and Stress Test it again.
Ideally over the longer term, the portfolio would continue to grow, allowing Ward and June to pay for increases in the monthly costs, have cash for other things they want to do, fund a long term care facility, and leave some cash for Wally and Theodore.